Welcome to Vergo. It's All About You!
This is about the women who have whispered for help because they thought they were going crazy.
This is about refusing to settle after being told by doctors to "go home and deal with it".
This is about providing unbiased, scientific, feed-your-soul information to women without the influence of Big Pharma.
This is about families who don't know what's going on with their loved one and don't know where to turn, or what to say.
About Us
Vergo empowers menopausal women and their families to take control of their healthcare through personal awareness, access to current medical information, application-based symptom tracking and a network of support and resources.
The Vergo Interactive Program: Our Education & Empowerment Program is a consolidated guide to menopause created by healthcare professionals and translated into plain speak. The most clear, concise and comprehensive guide to menopause based on current medical understanding.
The Biology & Science of Your Body
The Emotional Process & What to Expect
Treatment Options & Getting Help
Learn to identify your symptoms and get real answers.
Watch "The Symptoms Of Menopause"
From Our Founder
Hello Brave Woman,
For thirty years I worked with pharmacists developing specialty programs to use with their patients. Seeing first-hand how understanding a condition or disease empowers people, I wanted to tackle something I was experiencing on a very personal level – menopause.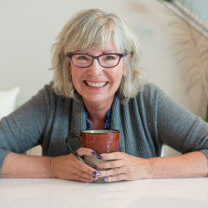 Aptly referred to as "the change of life", menopause is not an event. It can take anywhere from two years to ten years, and it is very different for every woman. Information available on the subject is vast, sometimes contradictory and almost always incomplete.While your doctor might understand the intricacies of the journey, many of our questions still go unanswered or worse … unasked.
I set out to change this by creating a trusted resource for women to get educated, get expert information and dispel myths while helping to minimize the potential negative impact on our intimate, personal and professional lives.
This is about the 1.9 billion women that will enter menopause by the year 2025. I humbly submit that the more knowledgeable and empowered we become, the better all those relationships will be, especially with ourselves.
With Vergo, we have developed an interactive education program that both informs and empowers women with actionable tools.
Vergo. With you on every step of your journey.
Deborah Kerr, MA
Founder